Young people from 11 countries have simulated a UN meeting at the General Assembly Hall of Gernika.
One of the main themes has been the 17 objectives of the 2030 Agenda that the general assembly adopted in 2015 for sustainable development. Azurmendi restaurant is a clear example of proactive support for the achieving these objectives.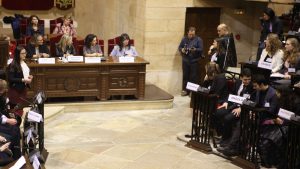 most 300 young people from different countries gathered this weekend in the Biscay parliamentary headquarters in order to simulate a UN meeting during the celebration of the first Model United Nations (MUN) conference in Euskadi, promoted by the COAS educational group and the Ayalde and Munabe schools.
The president of the General Assembly of Biscay, Ana Otadui, the deputy assistant general director of the United Nations in Spain, Tamara Zabala, and the director of the Basque Know How Foundation, Lorea Uribarri inaugurated this assembly on Thursday, January 26th.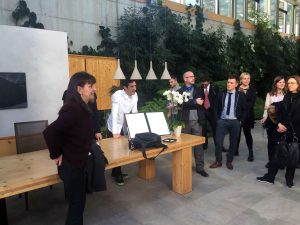 Ms. Uribarri has been in charge of explaining what individuals can do to achieve a better world and improve people's lives.
According to the director of the Basque Know How Foundation, Azurmendi is a prime example. This restaurant has been committed to sustainable development for more than 11 years. Along with his uncle Gorka Izagirre, chef Eneko Atxa decided to build a space where nature surrounded the building. To make this and its operations sustainable, they worked with the most advanced technology.
At the end of the construction of the new restaurant (2012), they planted more than 700 trees of local varieties. Azurmendi is equally committed to the suppliers and local producers who supply it and with whom they share their knowledge. It also cooperates with a research center to recover lost varieties of local vegetables.
The professors of the students participating in this Model United Nations (MUN) wanted to take advantage of their stay in Biscay to visit the restaurant and its Gorka Izagirre winery, where they produce a local wine variety called txakoli.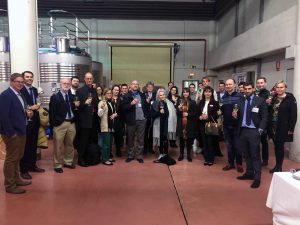 After presenting the example, Lorea Uribarri asked key questions to the members of the assembly, "Why should we be proactive?"
"Because sustainable development and peace are directly related. Peace occurs in egalitarian societies," stressed the director, adding that "human beings need food and water to survive, and to ensure access to both, global warming must be curbed."
In a few words, she stressed that we need to return to our origins, "We have not inherited the land of our ancestors, but rather we have borrowed it from our children."
For three days, the almost 300 young people have spoken about the environment, education, eradicating hunger, sustainable development, health, human rights, economy, and security, among a number of other topics.
MUN was born from the acronym "Model United Nations". They have been organizing congresses led by students in educational institutions under this name for more than 50 years. The idea was born at the University of Harvard in the mid-twentieth century.